About Us
Prairie Meats is your local butcher store & so much more. From the finest primal cuts of meat, to sausages, burgers, prepared meals, soups, salads, sauces, side dishes, seafood & more we have it all!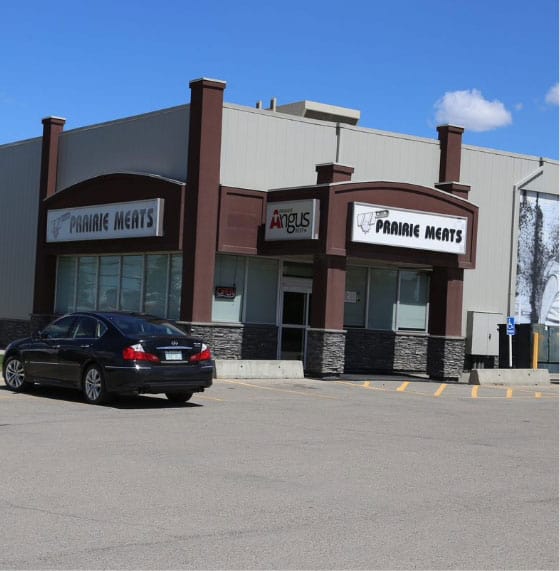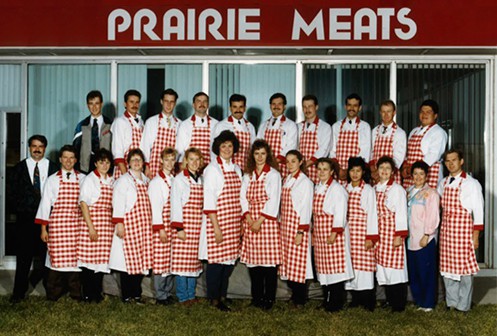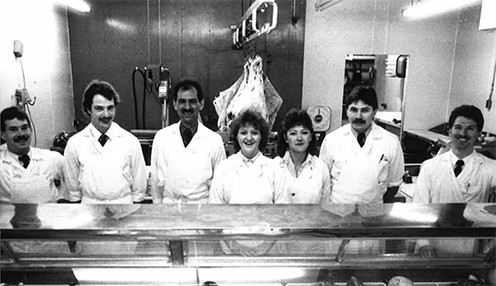 SINCE 1983
Where it all began
Prairie Meats is a proud Saskatchewan business serving retail, wholesale and institutional clients alike. Although many people in the province know and love Prairie Meats for our retail meat markets there is much more…
In 1983, brothers, Gene and Louis Dupuis purchased a small butcher shop on Ontario Avenue in Saskatoon. Prairie Meats quickly developed a reputation for personalized service and quality products. The local family butcher shop soon grew, and in 1990 Prairie Meats moved operations to the Millar Avenue location that still serves as the flagship retail store today. A new 50,000 sq ft state-of-the-art manufacturing and distribution facility was opened in 2006.  Growth continued with the addition of community retail stores, expansion into Regina and most recently expansion into Prince Albert. Prairie Meats has truly become a hallmark company in the province of Saskatchewan.  

   I am proud of how we have grown and what Prairie Meats has become, however I even more proud of where we came from.  The values that built our company are still as important today as they always have been.   

                   – Gene Dupuis
Today, Prairie Meats is an industry leader in Saskatchewan offering quality products through its processing, wholesaling and retail facilities. We currently have over 150 employees at locations in Saskatoon, Regina, Prince Albert and we are still growing.
We are large enough to serve customers across the province.  We offer a wide variety of products and use our substantial buying power to keep our prices and our clients' costs down.  Despite our continued growth, we remain connected to our roots of sourcing local, making quality custom products and providing personalized service.
The reason for our growth has always been – and continues to be – our customer service. We have built our reputation on our commitment to manufacturing quality products and delivering customized service that is 'a cut above'.
Prairie Meats takes pride in offering challenging and rewarding careers where employees are able to focus on quality, customer service and teamwork.
WHY Choose Prairie Meats
Prairie Meats is a Saskatchewan based company that has built an enviable reputation for personalized service and high quality retail and food service products. With locations in Saskatoon, Regina, and Prince Albert, SK, we strive to please customers all across the province. Prairie Meats offers exciting opportunities in a variety of different areas including: 
Food Production
Warehouse and Distribution
Customer Service
Administration
Retail
Meat Cutting
Management

Sales
Job Title
Location
Job Description

Retail Clerk

Saskatoon, Regina, Prince Albert




VIEW PDF

Retail Meat Cutter

Saskatoon, SK

VIEW PDF

Food Production Meat Cutter

2450 Dudley St.




Saskatoon, SK

 
VIEW PDF

Kitchen Helper

2326 Millar Ave




Saskatoon, SK

VIEW PDF

Warehouse Order Picker

2450 Dudley St.




Saskatoon, SK

VIEW PDF

Sanitation Worker

Saskatoon, SK

VIEW PDF

Food Production Worker

2450 Dudley St. Saskatoon, SK

VIEW PDF
If you are interested in joining the Prairie Meats Team, please forward a cover letter and resume to [email protected].
Saskatoon Millar Ave:
Monday - Saturday 8:30 AM - 5:30 PM
Sunday Closed
Saskatoon 8th Street:
Monday - Saturday 8:30 AM - 5:30 PM
Sunday 10:00 AM - 6:00 PM
Saskatoon Stonebridge:
Monday - Saturday 9:00 AM - 6:00 PM
Sunday 10:00 AM - 6:00 PM
Regina Harbour Landing:
Monday - Saturday 9:00 AM - 6:00 PM
Sunday 10:00 AM - 6:00 PM